Halswell Scout Group wishes to thank the Courtenay A&P Association for their support in allowing us the use of their entry software with the aim of improving our Annual Fundraising Fertiliser Drive. Located at the Kirwee Show Grounds, the Courtenay Show is the closest rural show to Christchurch, just 20 minutes drive from the city, on State Highway 73. As the South Island's premier show town, Kirwee also hosts the Kirwee Players, and the South Island Field Days. Check them out!
As part of our annual Fund Raising activities in support of our youth going to camps, training courses, and other events, such as the triennial national Scout Jamboree, we host a fertiliser drive each year in August covering most of the South-West corner of Christchurch, and this year will be no exception
This is our single biggest fundraising activity of the year.
In return for the youth members of our scout group participating in the fertiliser drive, we apportion them a percentage of the profits towards their scouting activities
The area we cover is shown on the map below, bounded by the red outline. It covers the suburbs from Prebbleton to Hornby to Wigram to Hillmorton to Spreydon to Barrington to Cracroft to Westmorland to Halswell.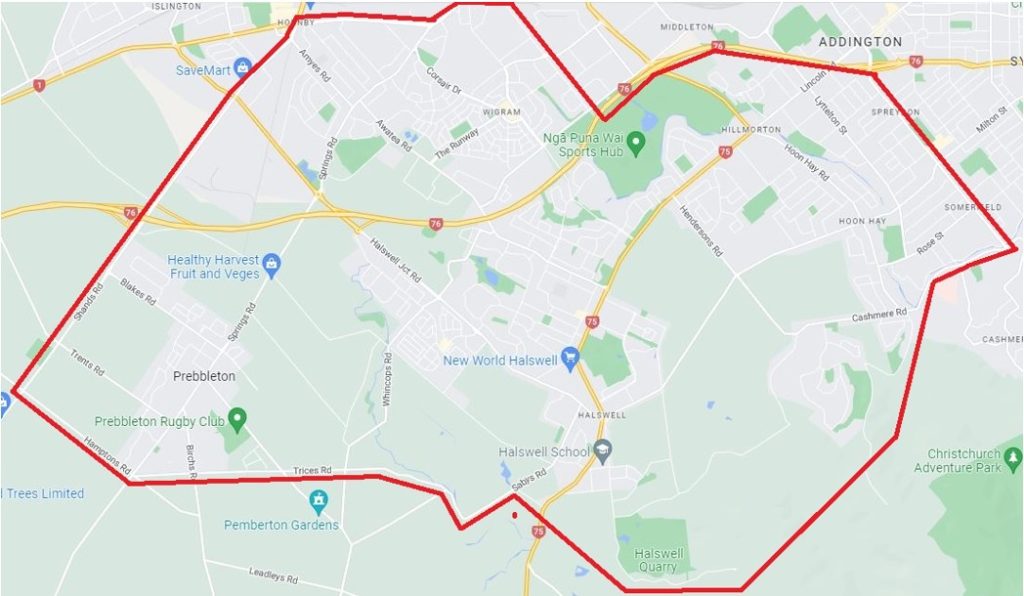 Planned Delivery Dates for 2022:
Products being delivered:
Saturday 27th August
Trailer loads of mushroom compost
Saturday 3rd September
Trailer loads of mushroom compost
+ any bagged items on the same
order
Saturday 10th September
All remaining bagged items
*Please note: Online Orders close on the 19th August
Bagged Fertiliser Products:
Product
Size (bag)
Unit Price
Strawberry Mix
Grow a bumper crop of juicy strawberries
30 Ltr
$11
Organic Vermicast
Nutrient rich organic soil conditioner. Made up of
worm castings and decomposed organic matter. It is
a natural alternative to chemical or artificial
fertilisers.
20 Ltr
$15
Garden Fertiliser
Containing Ammonium Sulphate (N),
Super-phospahte (P) and Potassium Chloride (K). It
is suitable for all types of garden, shrubbery, flowers
and vegetables.
10 kg
$25
Lawn Fertiliser
Containing Ammonium Sulphate(N),
Super-phosphate(P) and trace of Iron Sulphate.
10 kg
$25
Lime
This is for sweetening the soil, adjust the acidity of the soil
to help release all nutrients from the soil to be available to the plant.
5 kg
$6
Blood & Bone
A natural product suitable for use anywhere in
the garden
5 kg
$25
Rhodo / Acid Fertiliser
This fertiliser is suitable
for use on Azaleas, Camellias and of course Rhododendrons.
10 kg
$25
Citrus Fertiliser
Provides a balanced feed of essential
nutrients to match the demand of citrus plants.
10 kg
$25
Rose Fertiliser
This rose food has been developed to promote
flowering and rich green foliage.
10 kg
$25
Mila Complex
Similar to previously sold 'Nitrophoska Blue'.
This is a compound fertiliser suitable for the home garden.
2 kg
$12
Potting Mix (Tui)
100% natural ingredients.
10 kg
$15
Mushroom Compost
The mushroom compost is ideal as a
weed repellent and moisture retainer.
50 Ltr
$11
Trailer Loads of Mushroom Compost (Delivered within our target area):
| Product | Trailer Size | Unit Price |
| --- | --- | --- |
| 0.5m3 Trailer (Delivered) | approx 6′ x 4′ trailer | $35 |
| 1m3 Trailer (Delivered) | larger trailer | $55 |
These will be delivered on either Saturday 27th August or Saturday 3rd September.
When ordering you can specify your preferred delivery date and we will do our best to accommodate your request. For those ordering bagged items as well as trailer loads of mushroom compost we try to do those deliveries on Saturday 3rd September as that is when we will have the bagged items available.
If we deliver your trailer load on Saturday 27th August we will need to return on Saturday 10th September to deliver the bagged items.
Trailer Loads of Mushroom Compost (Customer to collect from Prebbleton Base):
| Product | Trailer Size | Unit Price |
| --- | --- | --- |
| 0.5m3 Trailer (Pick up) | approx 6′ x 4′ trailer | $25 |
| 1m3 Trailer (Pick up) | larger trailer | $40 |
Seed Products:
Product
Size (bag)
Unit Price
Certified Lawn Seed
General lawn seed mix containing rye, fescue and
browntop.
1 kg
$11
Catering Roll Products:
| Product | Size (roll) | Unit Price |
| --- | --- | --- |
| Cling Wrap in dispenser | 600M x 330mm | $30 |
| 90m Supafoil (wide) | 90M x 440mm | $25 |
| 150m Supafoil (standard width) | 150M x 300mm | $28 |