Awa Roa Venturer Unit meets on Wednesday evenings from 7:00pm-9:00pm during term time.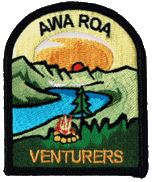 Awa Roa: Wednesdays; 7:00pm-9:00pm. Contact Sam: 027 815 9754
The Venturer programme offers exciting, fun, real-life, hands-on experiences for youth. By taking a step up in leading and running their own activities, Venturers learn to nurture an active, healthy lifestyle; acquire the knowledge and skills for life and career development; and participate in first class outdoor adventures. Weekend events, extended hikes, camping, space for reflection, community service and more, round out the Venturer experience.
Venturer scouts utilise all their past knowledge to develop and execute their own programmes. Venturers is all about being inventive and having fun, all while being roll models to the younger scouts at the same time. Queen Scout or Duke of Edinburgh awards are real possiblities at this level
As a Venturer you will:
Create lasting friendships and connect with others across the country.
Plan and lead your own adventurous experiences.
Learn important skills for life and tackle the big issues facing the young people of today.
Create a positive impact in your communities.
Participate in National and International Events, like Venture, Regional Camps, National Schools, and World Jamboree.
Have tons of fun!